Cathie de Bella
| | | |
| --- | --- | --- |
| Pour Français | Voor Nederlands | Deutsch hier bald |
| | |
| --- | --- |
| | |
| BL version with growing hair | BL version without growing hair |
Cathie came in various hair colours with and without the growing hair. She came in two sizes 48cms and 50cms tall the first version being 48cms. The grow hair version of Cathie had long rooted hair and growing strand that was worked by a push belly button to make it grow and a knob on her back to wind the hair back in. The hair colours came in golden blonde, ash blonde, auburn, and brown. She was available with or without a centre parting and also with or without a fringe. She had either hazel, blue or green sleep eyes and rooted lashes.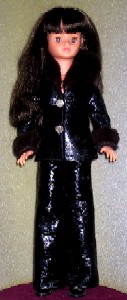 SL version without growing hair
Some versions were made with bend legs from a polyurethane mousse strengthened with metal and a metal plate in the foot. Stockings were fitted on to each leg and held in place with a plastic ring on the top of the leg. Other versions had hard plastic legs that did not bend.
This site is the copyright of Linda Clark © 2002