Copyright© Linda Clark
First Regal Tressy
The first version of the Regal Tressy doll from 1964 has very high colour make-up and wears a red cotton jersey dress with white satin trim, white belt with key attached, white cotton panties and white shoes. She came in a shoe box style of box marked "high fashion Tressy" with bilingual graphics, a stand and booklet were included in the box. Her hair colours are platinum, blonde, light brown and dark brown, she is 30cms tall and is marked regal on the back of her neck and was made by the regal Toy Company in Toronto, Ontario. Canada.
Stock number # 70211
Second version of Regal Tressy
The second version of the Regal Tressy is from 1965 is the much softer faced make-up version of the doll. She comes in a carton type of box marked " high fashion tressy " that opens at each end and she wears a navy and white cotton dress with a white belt, white panties and shoes and is complete with her stand and key. Her hair colour are platinum, blonde, light and dark brown and make-up was available separately to add her eyelashes and lip colour.
Stock number # 70211 ( marked same as first doll )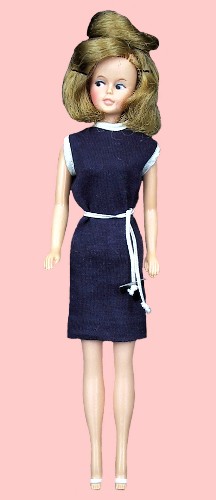 Copyright© Linda Clark